Space Zone Map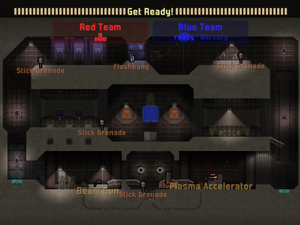 Map Icon
Space Zone is a Deathmatch map and is porbably one of the easiest maps to get kills/killed due to the fact it has some of the most powerful weapons.
Strategies
Edit
getting the Plasma Accelerator is recommended due to it being the strongest weapon you can get first.
when it's avaible getting the Matter Army Issue or Gyrojet Gun is recommended due to it doing 1-2 shotters and having a reasonable amount of ammo.
whenever a projectile comes your way it is recommended that you roll because there is a high chance it will kill you (unless you have a shield belt active).
Version History
Edit
Alpha - Introduced.