Metalface MK-1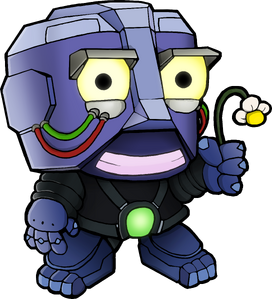 "It's hard to be a metal face. Agent Cobalt has learned as much after finding the Space Exploration Foundation's lost colonization ship The Seed at planet X9CSEC5.5B-blue, Trunkopia. It was once built by a one million strong development team back on Earth, but disappeared merely 30 minutes after its subspace jump. Whatever happened on board during its misadventure, sanity was not invited." - Former slogan for the game; no longer reflective of the events in-game
Agent Cobalt, the main character of Cobalt, is a Metalface MK-1.
Metalfaces are not exclusively controlled by human players, but can also appear as NPCs.
You can customize your appearance through the profile creation options.
| | | |
| --- | --- | --- |
| " | A highly reliable cyborg for long missions with low chance of succcess. Loved for its upstanding morale, positive attitude and charming eyes! | " |
| | ~ Old Cobalt website[1] | |
For the metalfaces in Cobalt WASD, see Metalfaces
Brains Eligible:
Aged 15-95 years
Both male and female!
Mentally healthy - No exceptions!
Bodily shortcomings not a problem!
Package Includes:
Memory wipe of past life! (Optional)
A guaranteed adventure!
A second chance!
The following voids warranty:
Rolling
Use of jet shoes indoors
Changing radio channel
Utilizing jet bikes
Compressing leg joints
Unsanctioned tapping of the feet
Walking against conveyour belts
Using the Sloth-Grip™ hands for Climbing
Throwing boomerangs
Opening the eye-utility hatches
Formerly, in the Survival gamemode, Metalfaces could spawn. They used the default colours, and acted like Deathmatch bots.
In Survival House (Legacy), they would spawn at waves 6, 7, and 9.
In Deathmatch and Plug Slam, Metalface NPCs can have different colors, including different eye colors.
Player-controlled Metalfaces have 48 Head, Detail, Hand, Feet, and Body colors to choose from, as well as 19 Eye colors, 49 Lid and Socket colors, and 37 Mouth colors.